MAX MIWU Disposable MINI MIWU Series Becomes Increasingly Popular Worldwide Robust new products coming soon
Since the brand of MAX MIWU was established in 2016, in a very short period, the brand has been widely recognized by consumers and the market by virtue of its rich taste, high reducibility, thick vape clouds, mild flavor and high quality.
Since the brand of MAX MIWU was established in 2016, in a very short period, the brand has been widely recognized by consumers and the market by virtue of its rich taste, high reducibility, thick vape clouds, mild flavor and high quality.
At the beginning of 2022, MAX MIWU planned to compete further in the global market and launched 23 products of the MINI MIWU and YUN WU series with flavors such as MARINE SODA, COFFEE BLACK TEA, OIL CITRUS FRUIT and JASMINE LONGJING. Those products quickly took over the Chinese market once launched. While gaining the prosperity in the local arena, MAX MIWU also launched its series of new products to the worldwide so as to meet the increasing demand of global customers.
Among them, flavors of BUBBLE FANTA ICE, WATERMELON ICE, APPLE are especially popular in North America, while flavors of PEACH&ROSE, HAWTHORN, YAKULT, ICED COKE, PINEAPPLE&COCONUT are favored by consumers in African countries. The Asian market is particularly fond of flavors of MUNG BEAN SMOOTHIE, SEA SALT PINEAPPLE, MANGO SMOOTHIE, SPRING LONGJING. Moreover, flavors of PASSION FRUIT, SUMMER ICE SPRING, HAMI MELON, SHINE MUSCAT, STRAWBERRY SMOOTHIE, NUTS TOBACCO, ICE MINT have quickly seized the Latin American market. Seeing such warm reception, MAX MIWU is actively expanding overseas markets and bringing high-quality products to buyers in more countries.
Sporting the tag line a small size but large puff, the disposable MINI MIWU is made of cotton wick with high reducibility, PCTG environment-friendly and food grade plastic, and multi-layer spray painting process, aims to bring you the ultimate satisfaction by 600 puffs of long-lasting vaping. Apart from the much touted authentic flavors, each product of MAX MIWU has embodied the unrelenting efforts of the aroma designer and the R&D team.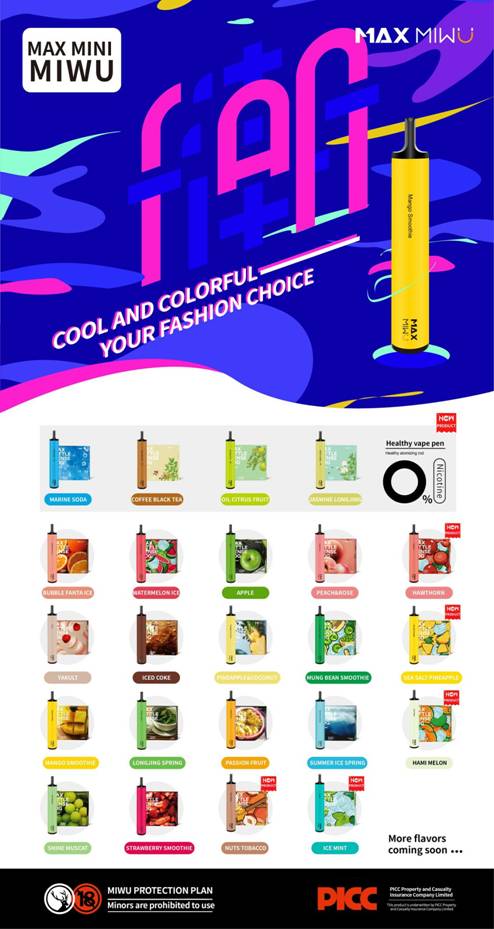 Considering that consumers from different countries have their preferences, MAX MIWU provides customized flavor service, personalized products with different levels of coolness, sweetness and throatiness for consumers, and these optimized new products are wildly-favored by consumers around the world. In addition to MINI MIWU, the YUN WU series will be released worldwide soon.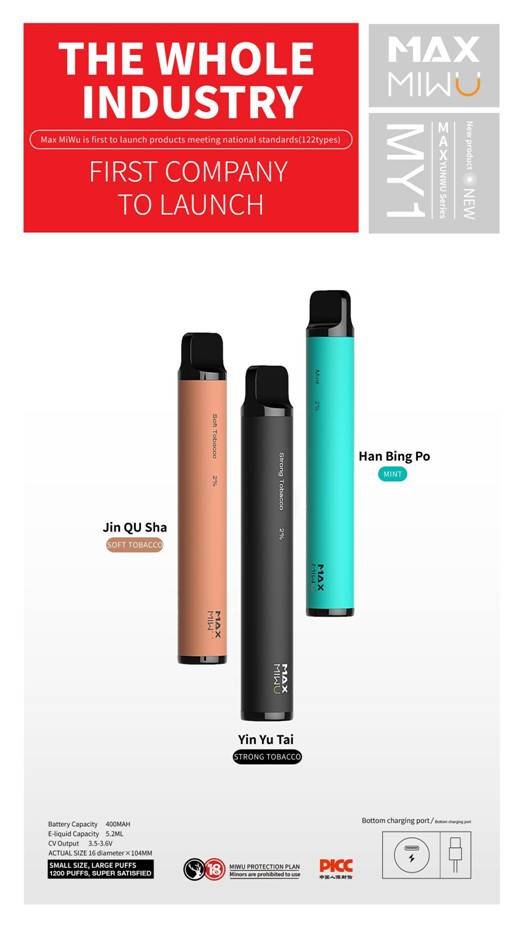 MAX MIWU the disposable YUN WU series comes in a small size and type-C rechargeable design and the ability to deliver 1200 puffs of long-lasting vaping experience. In line with new policies and standards of China, MAX MIWU not only has introduced flavors of SOFT TOBACCO, STRONG TOBACCO and MINT, but also has developed two herbal flavors of GINKGO NUT and HONEYSUCKLE, hoping more domestic and foreign consumers to enjoy the vaping essence of Chinese herbs.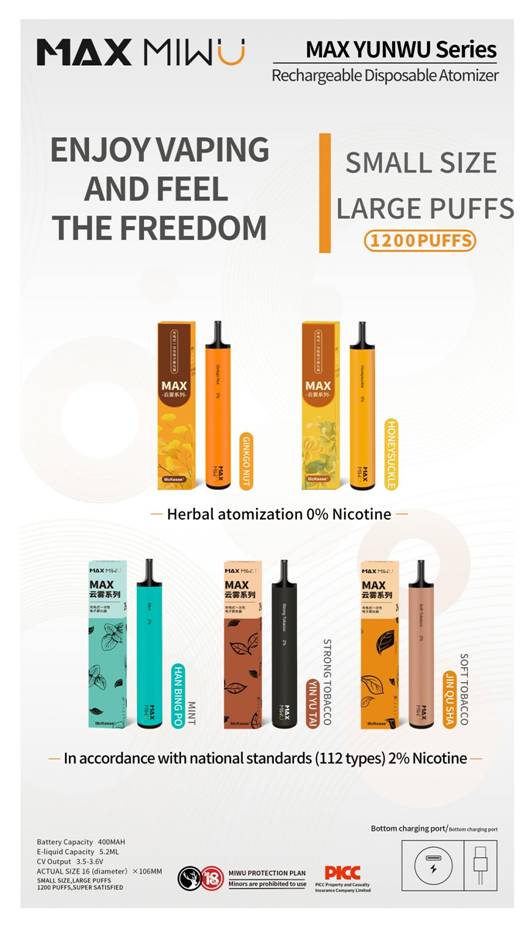 Each product series of MAX MIWU with its own features has won praise from global markets. The MATE series has made a remarkable achievement even in European markets with strict policy requirements. Whether it is fruit flavor of FRUIT PASSION &PINEAPPLE, ICE BLUEBERRY, ICE STRAWBERRY, GUAVA BUBBLE WATER, or tea flavor of SPRING LONGJING, FRAGRANT DAHONGPAO, YUNWU GREENTEA, or the most popular flavors of SILVER ICE FOUNTAIN, PASSION FRUIT, GREEN BEAN SOUP, COKE SMOOTHIE, COCONUT LATTE, all have gained the approval of European vapers.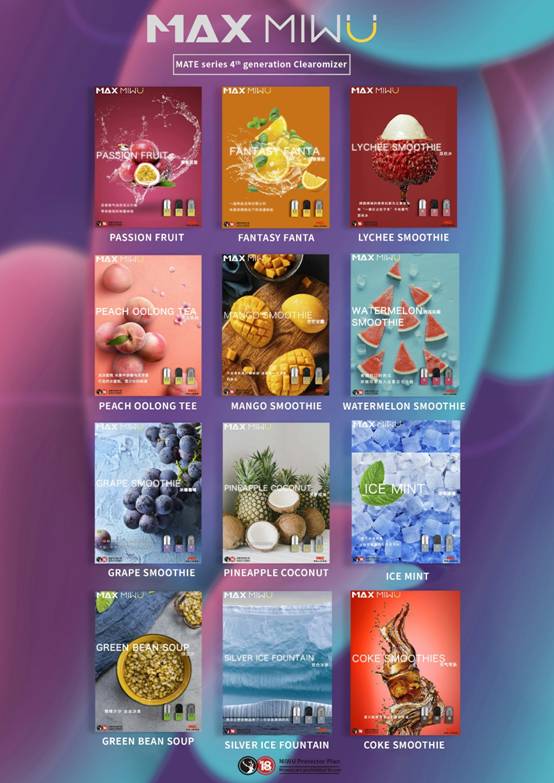 MAX MIWU is still developing new flavors of the MATE series. After successfully launching in the Chinese domestic market, MAX MIWU will continue to push boundaries and head for the global market to bring a new and novel experience to the consumers around the world. Given that vapers from different countries prefer different tastes, MAX MIWU has tailored new products in particular to meet the demands and constantly brings forth the newer products to cater to the local market.
MAX MIWU is known for its variety of flavors backed by a powerful research and development team with a strong and highly-skilled technical capability. In its series of products of MINI MIWU and YUN WU, it applies cotton wick with high reduction degree to achieve fuller atomization to bring about a more robust experience and higher vaping quality.
In its MATE series, it uses ceramic atomizing core, which provide bettersafety and more delicate atomization. MAX MIWU, with excellent integration capabilities on production and R&D, is able to provide exclusive product customization for domestic and overseas markets. With its well-rounded R&D effort, new products highly meet the demand of overseas markets, and the consistent high-quality is widely praised by the international markets. Meanwhile, the tight cost control in production of its own factory, effectively reduces the price of products while improving product quality has resulted in numerous overseas orders.
In strict accordance with the first-class technical standards, products are independently processed in a number of automated production lines. These in turn, forms the excellent product quality of MAX MIWU series. The factory covers a total area of 6000 square meters, class 100,000 cleanrooms, more than 500 professional operators, and high-quality production standards. All these factors come together to bring users an impeccable vaping experience.
Under the strict R&D process, MAX MIWU products spend91 days, more than 10,000 samples and 23 DOE versions for validation, six rounds of user internal testing, and multi-critical examination to achieve its goal of high quality well above the set standards. These R&D achievements have then given way to a number of appearance patents, utility model patents, and invention patents in both domestic and overseas venues. Currently, MAX MIWU is firmly in the leading position when it comes to domestic electronic atomizers. After the launch of the series of disposable MINI MIWU and YUN WU products, MAX MIWU will continuously expand globally, and we wish to welcome more dealers from all over the world to join us. Hotline: 008610400188630
関連記事